Traditional Art by Andrew Knez Jr.
Home Page About the Artist New Paintings Available Prints Note Cards Links Contact Order Form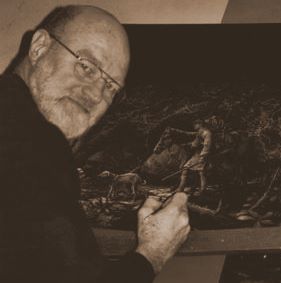 I have been marketing my "Frontier Art" full time since the spring of 2000. My realistic art usually depicts the life and struggles of the average person of the 1750 through 1830 period, as the frontiers of North America were continually being pushed westward. This was a time when survival was placed directly upon the shoulders of the individuals. There were a great many average people who survived and flourished in that dangerous time. Many were "heroes" whose exceptional deeds have gone by without notice or publication. It is my goal to present these people, and their way of life, as accurately as possible. I don't want my work to be viewed as art only, but as a true window into their time and place.My material comes from extensive research into period journals, diaries and archival records. I have a number of experts of the era with whom I consult about particular details of an intended painting. It is not uncommon for the research into a particular portrayal of an event to take much longer than the actual painting. Accompanying my paintings, giclees and prints is usually a page of text describing the story or event portrayed, so that any viewer might have a more in-depth understanding of the subject of the painting.
Andrew Knez Jr. 2010-2011© All Rights Reserved